Endlich! Mr P von delicious delicious delicious erfindet die Lamingtons wieder neu! Natürlich bin ich in dieser Runde auch wieder dabei und zwar mit Karottenkuchenminiguglhupf-Lamingtons. Der klassische Lamington besteht aus einem Sponge Cake-Sandwich mit Schokolade und viel Kokosraspeln außen herum, hier gibt es aber eine genauere Erklärung dafür.
Meine neuerfundenen Lamingtons bestehen aus Karottenkuchen mit Kokos (der Bezug zum Original soll ja nicht verloren gehen), Walnüssen und Rosinen darin. Gefüllt sind sie mit einer Creme aus Mascarpone, Frischkäse und Vanille und zur Deko gibts noch ein bisschen Schokolade obenauf. Viereckige Lamingtons waren mir zu langweilig, deshalb habe ich meine Mini-Guglhupfformen verwendet. Und glaubt es mir, meine Lamingtons sind um einiges leichter zu backen, als eine wohlklingende englische Übersetzung dafür zu finden.
Falls ihr, meine liebsten Leser auch noch bei dieser tollen Aktion mitmachen wollt, hier stehen die Regeln.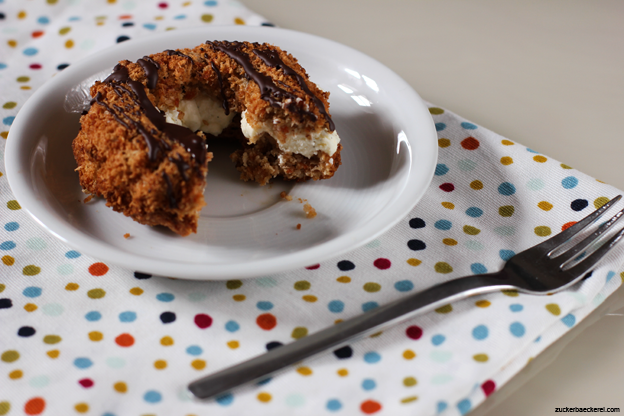 Finally! Mr P of delicious delicious delicious is re-inventing the Lamingtons again! Of course I contribute to this new round-up, namely with these Carrot Cake Mini Guglhupf Lamingtons (for all those who don't know Guglhupf: it's a special cake tin, comparable to the bundt). The classic Lamington consists of a Sponge Cake sandwich coated in chocolate and dessicated coconut. You will find a more exact description here.
My newly invented Lamingtons consist of carrot cake with coconut (as a reference to the original), walnuts and raisins. They are filled with a cream made of mascarpone, cream cheese and Vanille. As a decoration I added some molten chocolate on top. I found that square Lamingtons were kind of boring, so I decided to bake them in my mini guglhupf tins. And believe me it is much easier to bake my Lamingtons than to find a well-sounding english translation for them.
If you, my dear readers, want to participate at this great event as well, you find the rules here.
Karottenkuchen-Miniguglhupf-Lamingtons
75 g Kokosflocken
35 g Mehl
1 1/2 TL Backpulver
Salz
1/2 TL Zimt
2 EL gehackte Walnüsse
2 EL Rosinen
1 Eigelb
75 g brauner Zucker
2 Eiweiß
75 g feine Karottenraspel
Füllung
100 g Mascarpone
100 g Frischkäse
Mark einer 1/4 Vanilleschote
2-3 EL Puderzucker
Verzierung
40 g dunkle Schokolade
für 6 Miniguglhupfformen à 100 ml
Den Ofen auf 180° C Umluft vorheizen. Die Guglhupfformen einfetten und mit Mehl ausstäuben.
Kokosflocken, Mehl, Backpulver, Salz, Zimt, Walnüsse und Rosinen vermischen.
Das Eigelb mit dem braunen Zucker schaumig rühren. Das Eiweiß steif schlagen.
Erst die Karotten, dann die Kokosmischung in die Eigelbmasse einrühren. Zuletzt das Eiweiß unterheben.
Den Teig gleichmäßig auf die Förmchen verteilen und diese etwa 15 Minuten backen. Vollständig abkühlen lassen und vorsichtig aus den Förmchen nehmen. Die Miniguglhupfs horizontal halbieren, dabei sehr vorsichtig sein, weil sie wahnsinnig zerbrechlich sind!
Für die Füllung Mascarpone und Frischkäse cremig rühren. Vanillemark und Puderzucker einrühren. Mithilfe eines kleinen Teigspatels etwas Füllung auf der jeweils unteren Hälfte des Miniguglhupfs verteilen und dann den oberen Teil darauf setzen.
Die Schokolade über dem Wasserbad schmelzen und mithilfe eines kleinen Löffels und schnellen Bewegungen feine Linien über die Miniguglhupfs ziehen. Fest werden lassen und gut gekühlt aufbewahren.
Carrot Cake Mini Guglhupf Lamingtons
75 g dessicated coconut
35 g flour
1 1/2 tsp baking powder
salt
1/2 tsp cinnamon
2 TBSP chopped walnuts
2 TBSP raisins
1 egg yolk
75 g brown sugar
2 egg whites
75 g finely grated carrot
filling
100 g mascarpone
100 g cream cheese
seeds of 1/4 vanilla bean
2-3 TBSP powdered sugar
decoration
40 g dark chocolate
for 6 Mini Guglhupf tins à 100 ml (maybe there are bundt tins like these as well?)
Preheat oven to 180° C. Grease your baking tins and powder them with flour.
Mix dessicated coconut, flour, baking powder, a pinch of Salz, cinnamon, walnuts and raisins in a small bowl.
In another bowl, beat egg yolk and brown sugar until fluffy. In a third, clean bowl whip egg whites until stiff.
First add the coconut mix, then the grated carrots to the egg yolk-sugar-mixture. Carefully fold in the egg whites.
Fill the batter into the prepared tins. Bake for about 15 minutes. Let cool completely, then take the mini guglhupfs out of the tins. With a sharp knife, half the mini guglhupfs horizontally. But watch out, they are really fragile!
For the filling, beat mascarpone and cream cheese until creamy. Add vanilla seeds and powdered sugar and beat until incorporated. With a small rubber spatula, fill the mini guglhupf halves with the mascarpone cream.
Melt the chocolate in a bain-marie. Using a small spoon, "draw" lines over the mini guglhupfs. Let cool and store in the refrigerator or other cool place.